How Sharable Licenses Work🔗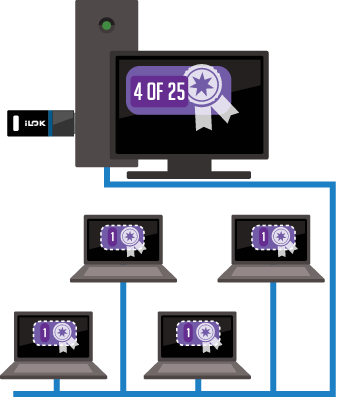 Let's take a look at how sharable licenses provide authorization over a network for protected software to run.
In this illustration, a sharable license server is serving up 4 out of the 25 seats of a sharable license across its network, and all 4 of those seats are in use by client computers.
The License Server🔗
The license server is the computer that will share the sharable licenses with the client computers. This computer must be configured to accept client connections and will also need to have a 2nd generation iLok with an iLok Server license on it. Zero-configuration standards have been used so that connecting the server with the client computers is easy to do. Once the server is set up and turned on, any number of sharable licenses may be served up to client connections. The server settings are configured in the iLok License Manager application's Preferences in Network > Server Admin. Detailed instructions are included after this general overview section.
The Client Computer🔗
The client computer is the computer that will be using one of the seats of the sharable license. The client computer will need to be configured to look for the server and to connect to it to use the shared licenses. Users of the shared license probably won't be familiar with the term "Client", so iLok License Manager uses the term Connection for the relationship between the client and the server.
Protected Software Version🔗
The user of the shared license will need to have a version of the protected software that supports sharable licenses. The version of the software product must allow authorization by an iLok server license, so make sure that the user has the correct version of the software. Software distributed prior to March 30, 2015 will likely not work with a sharable license.
Bonjour🔗
In order for client computers to use licenses being shared on their network, a connection needs to be made from the client computer to the license server. Using sharable licenses involves the use of Bonjour, which is Apple's implementation of the Zero Configuration Networking Standard. Bonjour is built in to the Apple OS, and Bonjour for Windows, which is installed with License Support, includes a System Service that helps applications discover shared services on the local network. Bonjour allows both the sharable license server administrator and the client computers to easily set up their systems to find each other and securely work together to share a license. If you don't want to have your license server be discoverable, there is an option to make the server private so that discovery via Bonjour does not take place.
iLok Server License Required🔗
Running a license server requires that you have a 2nd generation iLok with a license for an iLok product called iLok Server1 plugged in to the computer that is acting as your server. One license is required per computer that is set up as a license server.
---
Licenses for iLok Server may be purchased from the software company that sold you the multi-seat sharable software license. ↩